R4: The Two Podium Holders
As August was coming to an end, it was no easy weekend for Chaz Davies and Scott Redding who were busy fighting for victory at the Prosecco Doc Aragon Round of the WorldSBK. Amazingly for the second time in the 2020 WorldSBK season, the Aruba.it Racing – Ducati team held onto the top two podiums.
Both came out with positive feelings from the free practice sessions, with Chaz Davies being the protagonist of the day with a first place in FP1 and working hard with used tires in FP2 but kept up a great pace throughout.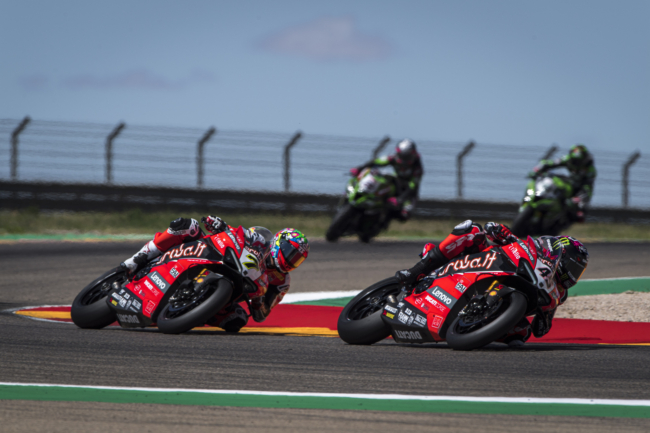 Scott Redding did struggle to find his pace to begin with in FP1, but by the time they were racing in FP2 he was one of the few riders that day who actually managed to improve their mornings time by finishing in 3rd position, ready to go into the race fighting.
'We struggled a bit this morning but since the early laps of FP2, we have been able to make some improvements, step by step, working a lot with used tires.' Scott Redding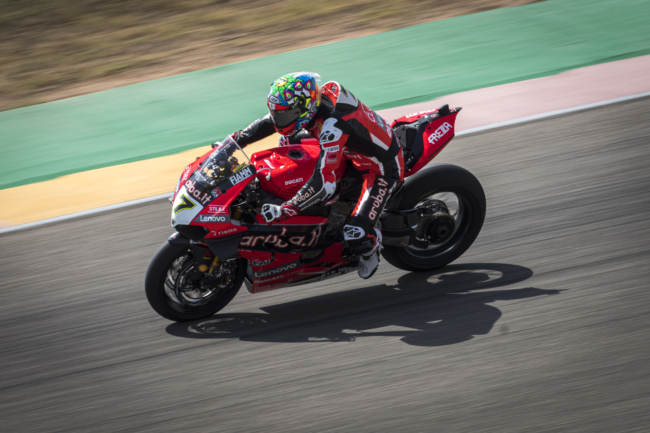 Redding starting in 3rd and Davies in 9th once again went out to prove their places on this amazing team. In the opening six laps of the race, Davies climbed five positions and after a crash from the Kawasaki team, he started chasing Rea. Davies finally overtook him with only three laps to go, meaning he could have a go at getting past his teammate.
Redding meanwhile kept building his pace and managed to overtake to first position by lap eight. He defended himself well throughout, causing his competitor Rea to make a mistake, meaning Redding and Davies were in the top two spots. Davies tried to overtake Redding but finished a mere three tenths of a second behind his teammate.
'I tried to manage the tires then when I saw that Scott and Rea were gaining advantage I pushed to the maximum.' Chaz Davies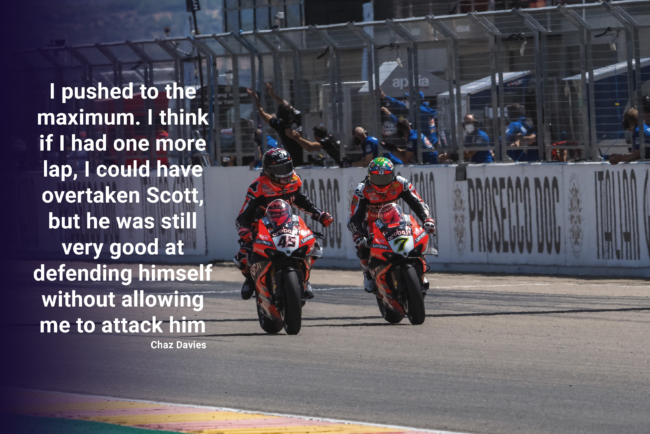 'This gives us great confidence ahead of the next five races that we will compete on this circuit, but it is clear that there is still room for improvement. We still have to work, and we will try from tomorrow to do it better than the others.' Marco Zambenedetti (Ducati Course Superbike Technical Director)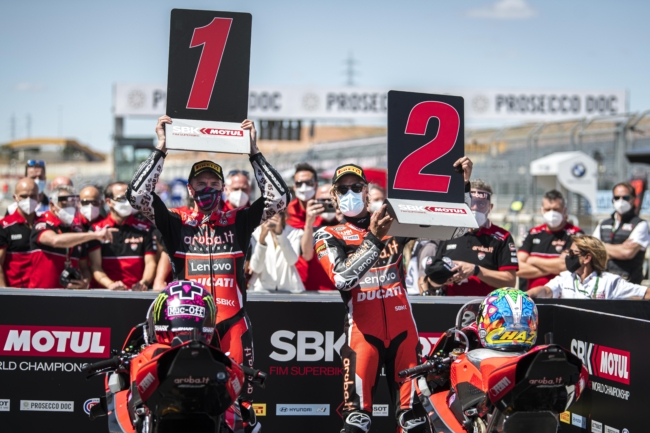 After the great 1-2 result from Race One, Davies managed another podium for the Aruba.it Team by finishing second in Race Two after fighting with Rea from the Kawasaki Team once again right until the very last lap. He gained positions on the grid thanks to the fifth place in the Superpole Race. His progression throughout the race was exciting, attacking Redding, Bautista and Van der Mark all in the space of laps 4 and 6! He kept a solid pace throughout and put the pressure onto Rea with only 4 laps to go, not quite getting to the first spot but still finishing a solid second place.
Redding started from P2 thanks to the second position in the Superpole Race and he tried his very best to keep up with Rea, but his rear tire was not the same as it was in Race One, so slowly lost the gain he would have had in Race One. He managed to attack Van der Mark to get a respectable P4 as he crossed the chequered flag.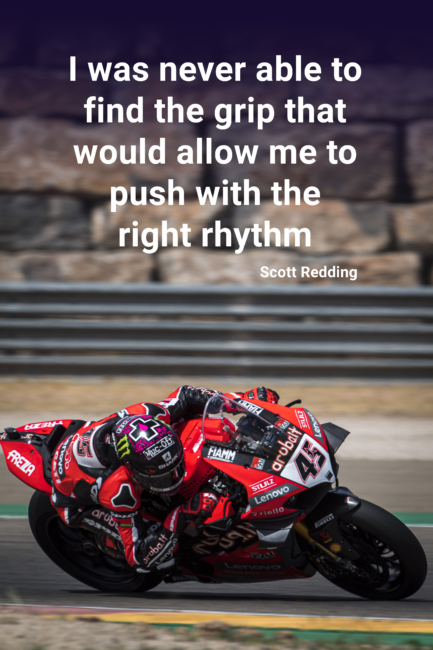 Michael Rinaldi – also sponsored by FAI – also had a good weekend of racing, fighting hard to get the result of three Ducatis in the top finishing five. He ended up finishing in fifth position, also managing to get past Van der Mark just like Redding did. His pace was very similar to Reddings and he tried hard to get past him in Race Two but didn't quite manage it. He is set to fight again with the next race in a few days time.
As it stands at the moment for the overall Championship, Scott Redding is sitting in second position and Chaz Davies in fourth. Fingers crossed they can keep getting podiums throughout the rest of the season!